WHERE? Unique design and setting this One Ocean Club is at Port Vell Marina and provides luxury facilities to the yachts, conveniently placed between the city centre's old gothic quarter and the beach.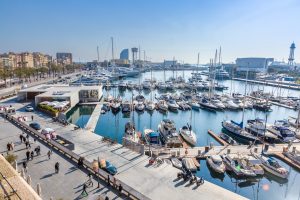 A PRIVATE CLUB FOR WHO? One Ocean Club/Wellness/Gym/Restaurant provides luxury services for the yacht owners parked next door. If you know someone who is a member you can register online and simply quote the members name.
RESTAURANT: on the water with beautiful views of the super yachts sky and sea. We took a look around this exclusive venue and we have to say it is very sumptuous and a perfect city oasis to relax and enjoy. The space is beautifully designed and the large terrace hovers over the water and you feel as if you're sailing.
BLUE WAVE COCKTAIL BAR: just next to the club is this is the cosy alternative to the club, still stylish and again with views from the terrace and relaxing furniture, this place is perfect for a cocktail event.

THE GALLERY: is a building separate from the club and is home to the reception, crew lounge, gym & wellness centre and a raw space that can be purposefully designed to suit your event, meeting, formal cocktail, workshop, private dinner this also has the feel of a boat and a decent size terrace area surrounding the room. The custom built concrete cladding was designed for the development and still allows the views to be seen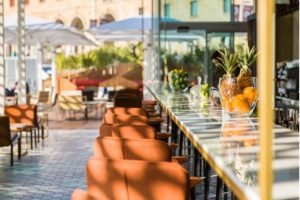 THE CREW LOUNGE: give a more informal atmosphere a fun space with bright colours and a food truck, great for interactive meetings and parties.
This venue could be the perfect location for your corporate event/cocktail/dinner, get in touch for further details: Rebecca@server485250.vservers.es