From spas and retreats to nightlife and shopping, Barcelona has it all. So how about a little je ne sais quoi to enhance your luxury stay in one of the most stylish cities in Europe.
'VIP' can mean many things to many people, or it can simply be about you. We all deserve to feel special, pampered and doted on from time to time, so why not splash out and enjoy the finer things in life. Here are our top-tips on how to organise your perfect VIP trip to Barcelona.
First things first, us ladies love flexing the plastic on high-end fashion so where better to splash the cash. Barcelona has handful of luxurious shopping zones, where equally stylish proprietors are dying to separate you from your cash.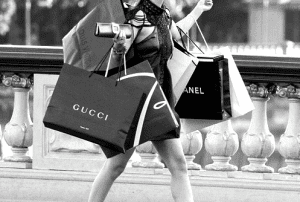 Shopping
Without doubt Passeig de Gracia is Barcelona's smartest stretch of luxury shopping brands. Between Gaudí's La Pedrera and Casa Batlló you will find designers such as Chanel, Prada, Luis Vuitton, Burberry, Jimmy Choo, and Gucci; with jewellery courtesy of Cartier, Tiffany & Co and Bagues Joieria.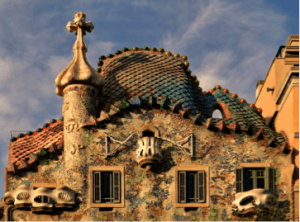 For the trendsetters amongst us the beautiful and historic El Born boasts unique boutiques selling one-of-a-kind pieces of clothing, shoes and jewellery, including shops specialising in quirky home furnishings and designers such as Dolce & Gabbana.
Sarrià or Zona Alta (high zone) as its also known is a beautiful area that rarely sees tourists due to its geographical location above the Eixample district. Sarrià-Sant Gervasi is also one of the most pleasant and ergo expensive residential areas in the city of Barcelona. Get yourself and your wallet to Carrer Major and explore some of the side streets that are home to many small boutiques selling clothing and stylish home décor and accessories. This is a good place to find one-of-a-kind pieces made by local designers that you would be unable to find outside of Barcelona. Lots of upmarket bars, cafes and restaurants pepper the area – a shopper's paradise and a haven all in one.
Spa and Wellness
Be prepared to be transported into a world of relaxation with the Elite Traveller top 5 Spa's in Barcelona, including;
– Zen Zone Spa located in the enchanting Gran Hotel La Florida 500 meters above the city.
– Bliss at the exclusive W Hotel located right next to the beach.
– 43 The Spa at the glamourous Hotel Arts
– Spaciomm at the unique Hotel Omm.
– Discovery Spa at Le Méridien for those seeking the ultimate in relaxation therapy.
If your take on r&r is more sun salutation and spirulina smoothie then we recommend the Enlighten Yoga Retreat – a luxury wellness, detox and yoga haven on the idyllic coastline of Sitges. A private chauffeur or helicopter ride will get you there in no more than thirty minutes.
Where To Stay
It doesn't come much more 5 star than the Gran Hotel Central Barcelona, Mandarin Orient Hotel, Casa Fuster, The Majestic, or the Neri Hotel, all classically designed for luxury and location. If you're looking for boutique design then ABaC Restaurant and Hotel or El Palauet Living Room is the place for you. The Beach? It has to be Hotel Art or the classic Hotel W for Mediterranean views and healthy sea air.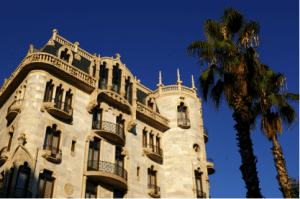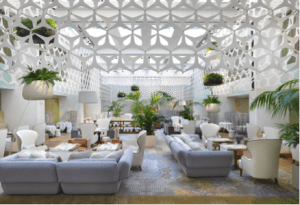 Fine Dining
Eating out is a must in Barcelona and high-end restaurants are a plenty. Saboc, in the beautiful El Born has conceived a cuisine entirely based on the temperature of the food based on four types of cooking; raw, low temperature with stoves and griddles. The menu is simple, delicate and deliciously designed for you to savour every bite. Vegetarian? No problem. Teresa Carles has two restaurants, one under her own name and the other Flax & Kale which serves a combination of plant based and oily fish cuisine – heaven for whole-food lovers. If you're after a sea view Can Solé serves the best paella and seafood Barcelona has to offer a very typical Spanish cuisine with a wine list to tantalise any connoisseur.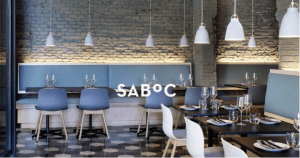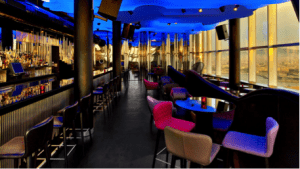 Nightlife. 
Before hitting the late night bars make your way to Blue Wave cocktail bar, which is part of the OneOcean private members club where you can sip the best cocktails in town and appreciate the view as the sun sets on the marina across the Barcelona skyline. Eclipse at the W Hotel is a VIP nightlight must for night owls. A personalised service can be organised including private photographer, mixologist, VIP table service and room in of the hotels Elite suits.
The Sutton Club is Barcelona's most fashionable and elite night spot. Located in Sarria, the club offers both the Moët Private room and the new Moët Suite, available to a select few. Designed for VIPs, the Suite is an entirely private and unique area offering a butler, private baths and exceptional service throughout the night.
VIP To The Max
Cubick can organise all of the above plus your added extras including a personal shopper, private chauffeur, helicopter and charter flights, restaurant bookings and hotel arrangements. Live up to the VIP expectation and have it all. You can't put a price on experience!
Email michelle@server485250.vservers.es to discuss your VIP weekend options.