SANT PAU Recinte is an emblematic modernista building in Barcelona's city centre facing Gaudi's amazing work in progress still Sagrada Familia! This Art Nouveu classic was built in 1401 and was the work of architect Lluis Domenech I Montaner and since 1978 was declared a Historic-Artistic Monument and then in 1997 a Human Heritage Site by UNESCO, due to its unique construction and artistic beauty.
HISTORY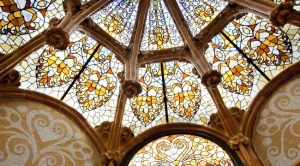 More than a century as the home of the Hospital de la Santa Creu I Sant Pau which was originally was formed in 1401 and by the late 19th century due to Barcelona's rapid population growth and medicine advances the hospital become to small and thanks to Catalan banker Pau Gil the new hospital was designed by Lluis Domenech I Montaner, an important figure of Catalan Modernisme, construction started on the first twelve new buildings of the complex in 1902 and was opened in 1930. In 2009 this modernista hospital moved to new premises just next door. The building was re-constructed after all the healthcare equipment was moved.
VENUE SPACES
Main Foyer of the administration pavilion is the most beautiful entrance to the Sant Pau Art Nouveu Site with domed ceilings covered with pink ceramic and mosaics and marble columns.
Hypostyle Hall is underground and accessible through the tunnels, which lead into the Art Nouveu gardens. A perfect space for cocktails, dinners and presentations or simply for a visit!
Domenech I Montander Room is adorned with beautiful carved pillars and a beautiful huge window, which shows off stunning glass work.
Francesc Cambó Room auditorium with Arabian inspired ceiling this Amphitheatre has an area of 245m2.
Pau Gill Room is a two level space for 200 people that is rich in colours and perfect for seminars.
Meeting Spaces with capacities of 35 to 70 people and can be adapted to user needs. Ideal for corporate meetings, seminars and other small events!
Outdoor spaces at Sant Pau surround the building and pavilions and were originally designed as a city garden; the outdoor spaces can also be used for cocktail parties, aperitifs or special events.