Bubble Football is great fun for corporate events, the team gets to let of some steam in a familiar yet new kind of way with the bubbles being around each player leaving their legs to kick and tackle the ball, and falling can be quite fun also! So expect lot's of diving for the ball and risk taking moves!
Flamenco Workshop is one of Barcelona's favorites, the Catalunya capital is the perfect place for this type of team building or corporate event or activity; learn the basics of this passionate dance that originated in 1760's. Working together in a team practicing the choreography with a teacher and keeping with the rhythm and clapping in time to this fun classic Spanish dance.
BornToCook cooking classes workshops and private events for food lovers and everyone alike. A fun relaxed atmosphere in the cosmopolitan Born district in the old town. Experienced chefs guide groups through making traditional Catalan dishes and tapas right through to Japanese sushi. 
Canyoning in Girona. The best way to test your team's limits is to go beyond them, just a little! This exhilarating experience is an emotional and unforgettable journey. Involving different techniques such as walking, swimming, jumping, and abseiling with ropes all under the guidance and supervision of professionals this is a discovery of teamwork and sociability.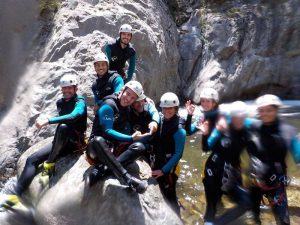 ParaPark in an un-suspecting urban area in a seemingly unexpected apartment! A place that captivates people… literally! The rules are you enter and then you are enclosed in a room with a countdown mechanism on the wall showing the time limit and in each corner of the room is a puzzle, devil-lock, and other various clues and puzzles, searching for hidden objects working together to lead the way out. Think crystal maze or krypton factor in real life!