On Friday 3rd of July we were invited to the Hotel W's latest addition to it's ever expanding venues, spaces and restaurants. The BREEZE as it's aptly named is located on the north side of the building overlooking the Mediterranean sea, with just the occasional sedge way or jogger passing by this side of the Hotel is more private and open with views of the port.
What is it? The Breeze is a meeting room with 3 break out rooms and terraces with a difference, illuminated fully with natural light and stimulating features such as the carpets and ceilings all in keeping with the Hotel's Mediterranean sea and sailing sensations. There are 4 rooms 3 of which are connected and the space can be adapted to suit different types of events and the terraces also can be separated with plants per meeting room.
What can the space be used for? Meetings, Expos, Galleries and other private events can be mounted. Screenings and Private dinners with delicious food catered by the Hotel with exciting and Mediterranean inspired menus.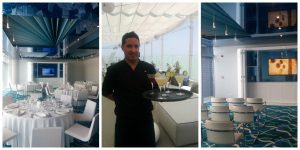 What did we enjoy the most? We just love the atmosphere at the W the friendly welcoming casual vibes leave you with a sense of relaxation and enjoyment which is what people need!
What were the highlights of the event? That would include the oyster bar as always the W delights us with their delicious oysters and creative toppings like lime leaf and kaffir and bloody Mary or gin! A refreshing cocktail was offered on arrival of white vermouth and cucumber, which certainly hit the spot in the hot July Spanish heat!
Who was there? The Hotel had invited a few select guests who they work with regularly, event and accommodation companies like us!