Looking to organize a group or corporate dinner in Cannes but have no idea what restaurants can fit your party size? Here we have complied our top 5:
New York New York
This brasserie brings the feel of a New York steakhouse to Cannes and mixes it with French flavours and top quality ingredients. It offers international food and is great for cocktails in a cosy setting.
Seating capacity: 250 pax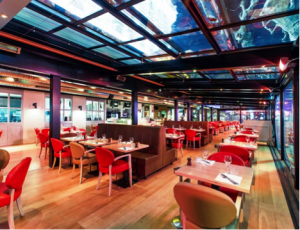 Le Beryte
Located between the Carlton and the Martinez and just a few steps from the Croisette, Le Beryte specializes in Lebanese cuisine and is happy to take care of your group reservations and organize theme nights for an unforgettable night.
Seating capacity: 65 pax inside and 35 pax in the terrace.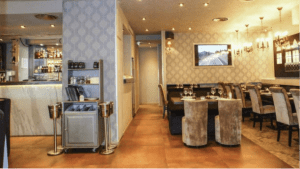 Le Palm Beach Casino Restaurant le 1929
If you want to add alternative fun to your dinner event, then the restaurant Le 1929 of the Palm Beach Casino is a great choice, you can enjoy a nice French dinner and then spend some time gambling at the casino for some extra fun.
Seating capacity: 100 pax inside and 80 pax in the terrace.
La Californie
This restaurant has a huge terrace perfect to accommodate big groups and sit outside while sipping on a refreshing cocktail and a nice dinner. If you prefer a cosier atmosphere, groups can also be accommodated inside .
Seating capacity: 50 pax inside and 160 pax in the terrace.

Le 1331
New restaurant in Cannes that combines a New York styled décor and industrial atmosphere with a French/Mediterranean cuisine.
This restaurant is great for groups that want to have a good meal and a moment of conviviality in a unique setting in Cannes.
Seating capacity: 70 pax inside and 30 pax in the terrace.

Contact Cubick to book your corporate/group dinner in Cannes