Written by Lilla Tamas April 5th, 2023
Are you tired of boring corporate events? Let's add some excitement and pizzazz to your next corporate gathering! We've curated a list of top-rated and unique venues and activities that will make your team-building, networking, or corporate party an unforgettable experience. Say goodbye to traditional corporate events and hello to unforgettable experiences! Keep reading to discover the most sought-after corporate event ideas.
IKONO BARCELONA
For a truly unique and immersive experience for your next corporate event, we highly recommend IKONO Barcelona, in the Arenas mall. With a range of interactive installations, you'll be transported to a world of light and color, with each installation carefully designed to inspire and engage. The exhibit is divided into several rooms, each with its own theme and atmosphere, ranging from a futuristic neon wonderland to a tranquil forest of light. The installations are all designed to be interactive, with guests encouraged to touch, move, and play with the exhibits to create their own unique experiences.
And the best part? IKONO Barcelona is fully customizable to your event's needs. Whether you want to host a small team-building exercise or a large-scale company party, the exhibit can be tailored to your requirements. The IKONO team will work with you to create a bespoke experience that reflects your company's brand and values, ensuring your guests leave feeling inspired and motivated.
Ikono Barcelona offers a unique and creative space with immersive art installations that can provide a memorable and inspiring experience for your next corporate event.
PARADOX MUSEUM BARCELONA
If you like solving puzzles and mind-bending illusions that stimulate creativity and imagination, Look no further than Paradox Museum Barcelona. "We tickle your mind for fun," certainly sums up the sensation of visiting the place.
With its cutting-edge technology and mind-bending installations, Paradox Museum Barcelona is the perfect destination for any corporate event, whether it's a team-building exercise, product launch, or company party.
The installations are expertly designed to challenge your perception and stimulate your imagination, with a range of optical illusions, interactive exhibits, and immersive environments. You can expect to find paradox rooms, augmented reality games, paradox boxes, mind games, and virtual reality experiences here.
These exhibits are designed to encourage visitors to think outside the box and challenge their assumptions, making it the perfect destination for team-building exercises and brainstorming sessions. The museum also offers a range of workshops and activities that can be tailored to your team's needs, from guided tours to interactive workshops that encourage creative thinking and problem-solving.
They use projection mapping and other cutting-edge techniques to create stunning visuals and immersive environments, while the museum's event spaces are equipped with the latest audiovisual equipment to ensure that your presentations and speeches are delivered with impact.
Paradox Museum Barcelona offers a one-of-a-kind venue with interactive exhibits and immersive experiences, making it an exciting and memorable choice for your next corporate event.

CLUBHAUS BARCELONA
Clubhaus Barcelona is the city's premier coworking space and event venue, where food meets art and play–like a productive playground for adults!
Located in the center of Barcelona, just a couple minutes walk to the Parc de Ciutadella and the Barceloneta beach, Clubhaus is your one-stop shop for all your corporate event needs!
Clubhaus Barcelona offers a variety of event spaces that can be customized to meet the specific needs of your event, whether that's a corporate dinner, photoshoot, product launch, cocktail class, team-building, conference or seminar.
You can start upstairs with a meeting and cocktail reception with catering, then work your way downstairs to the Jungle Room for a presentation followed by more drinks, snacks, and especially games, and continue to the Galaxy Room for the afterparty.
Incorporate exciting games and activities like indoor golf, virtual reality experiences, karaoke, darts, pool table, retro arcade games, ping pong, and shuffleboard. You can even keep yourself entertained while waiting your turn in the bathroom by playing indoor mini-golf!
Moreover, the multifaceted fusion cuisine and vibrant, appetizing display of each plate, along with the exceptional and delectable blends crafted by the cocktail expert in the well-provisioned bar, make for a catering experience that is simply irresistible! We love everything on the menu, but our top favorites are the chunky guacamole, the extra creamy hummus with crudites and black sesame crackers, Korean tacos, and green bloody mary.  There's really something to suit everyone's dietary requirements and tastes here.
Not only is this a fun event space Clubhaus also offers a membership-based coworking, so you know they've got all the technology needed for your next corporate event covered! Clubhaus Barcelona is home to a vibrant community of entrepreneurs, freelancers, and creatives, making it the perfect destination for networking and collaboration. The venue hosts a range of events and workshops throughout the year, providing opportunities for attendees to connect with like-minded individuals and expand their professional networks.
Clubhaus is a versatile event space that can accommodate a variety of corporate events, making it a great choice for your next gathering.
INDOOR JUMPING CLUB BARCELONA
Looking for something that will truly engage and excite your team and bring out their playful inner child? Indoor Jumping Club Barcelona is the city's premier indoor trampoline park and immersive exhibit. With a range of exhilarating activities, Indoor Jumping Club Barcelona is the perfect destination for your next corporate event.
Jump into a world of fun and excitement! The trampolines are expertly designed to provide a safe and enjoyable experience for all ages, while the installations and technology make the park an immersive and unforgettable experience. From giant trampoline walls to interactive light displays, there's something for everyone at Indoor Jumping Club Barcelona.
But what really sets this venue apart from others is its versatility. Indoor Jumping Club Barcelona can be customized to suit any corporate event, whether it's a team-building exercise, product launch, or company party. The park has a range of different areas that can be tailored to your event's needs, from private rooms for meetings and presentations to a VIP lounge for networking and relaxation.
And if you're looking for a unique team-building exercise, Indoor Jumping Club Barcelona has got you covered. The park offers a range of team-building activities, from trampoline dodgeball to obstacle courses, that will challenge and motivate your team to work together and achieve their goals.
You will just want to keep jumping and jumping!
So, if you're looking for a corporate event destination that is truly unique and engaging, look no further than Indoor Jumping Club Barcelona. Book your event today and take your team to new heights!
Born to Cook Barcelona is a cooking school in Barcelona that offers hands-on cooking classes, wine tastings, and food tours that showcase the rich culinary traditions of Catalonia and the wider Spanish culture. Located in the heart of Barcelona, near the Picasso museum, making it easily accessible for your team, the ambiance is created by its rustic and traditional Catalan-style decor.
Spice up your next team-building event by adding activities like cooking challenges, team cooking classes, and food and wine pairing sessions. These activities can help improve teamwork, communication, and collaboration among team members. Such cooking experiences help improve team dynamics and are fully customizable to meet your needs.
Born to Cook Barcelona provides a fun and interactive cooking experience that can promote team building and collaboration, making it a great choice for your next corporate event.
BUBBLE FOOTBALL BARCELONA
If you're looking for a fun and memorable experience for your next corporate event, Bubble Football might be an excellent choice. This is a unique and entertaining experience that is perfect for corporate events, team-building activities, and group outings. In bubble football, players wear inflatable plastic bubbles around their bodies, with only their legs free to move. The aim is to score goals while bumping into other players and trying to knock them off balance.
Bubble football is a unique and exciting activity that is sure to create a memorable experience for your employees or clients. It's a fun and challenging game that requires teamwork, communication, and strategy. It's an excellent team-building activity that can help break down barriers, build trust, and improve communication skills. It requires players to work together and communicate effectively to succeed. It's a low-impact activity that doesn't require any prior experience, making it accessible to everyone.
Bubble Football Barcelona offers a unique and entertaining team-building activity that can provide a fun and memorable experience for your next corporate event.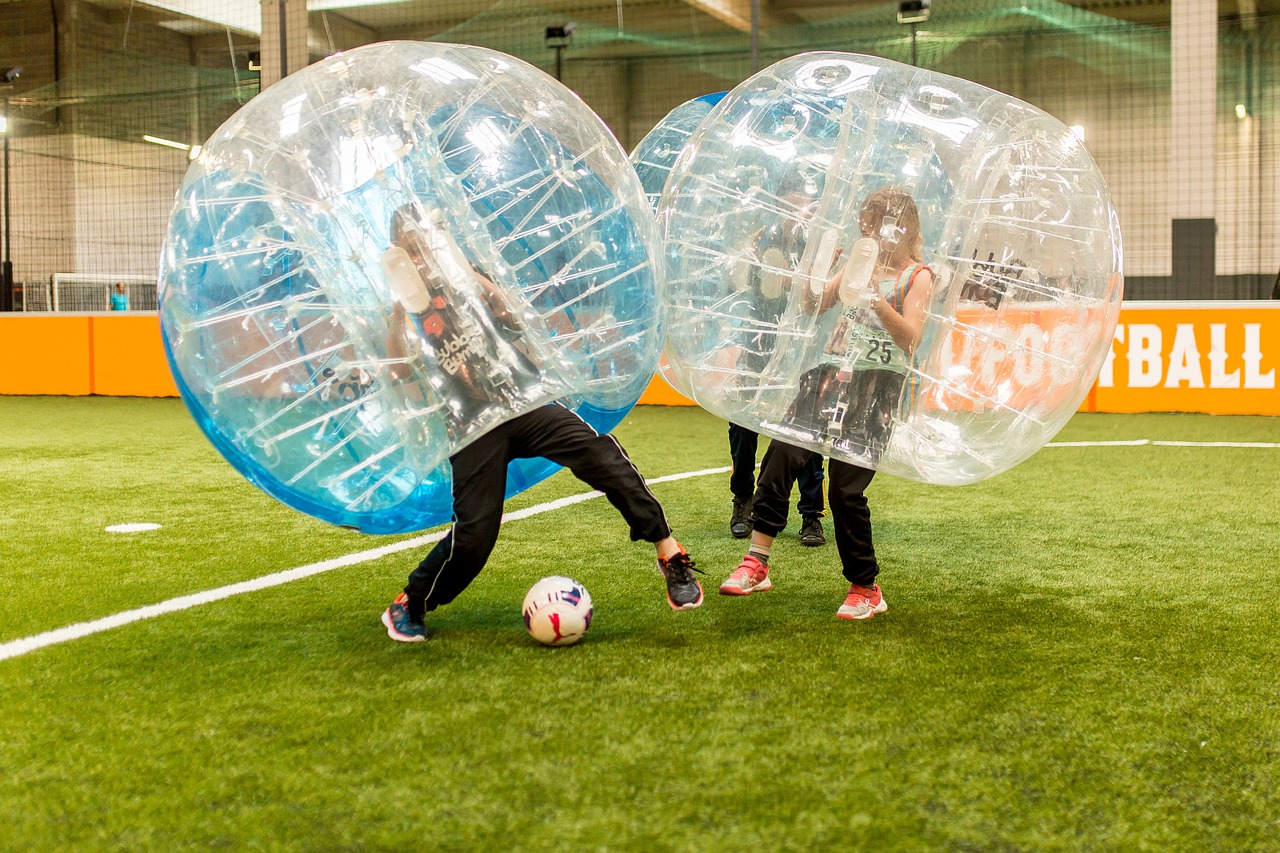 Why Choose Cubick for Your Next Corporate Event?
Organizing a corporate event can be a daunting task, requiring careful planning, attention to detail, and expert coordination. From selecting the right venue to managing logistics, catering, and production, there are many factors that can impact the success of your event. That's where Cubick comes in!