June 4th, 2020
By Lilla Tamas
Now that we can see the light at the end of the COVID tunnel as we move from mandatory quarantine toward the New Normal, let's take a moment to review how a select group of Barcelona hotels stepped up to the plate and demonstrated their altruism.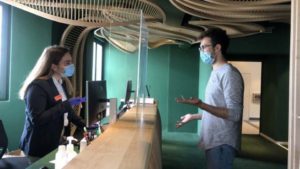 Unfortunately, Spain was one of the hardest hit countries by the Coronavirus Pandemic with 239K total confirmed cases and 27,127 confirmed deaths, of which Catalonia contributed to 59,019 cases and 5,587 deaths.
Hotels in Barcelona were forced to close to the public due to the pandemic and are set to reopen in July 2020 as half of Spain has advanced to phase one of a four-phase plan to ease lockdown restrictions by July. This means hoteliers will be able to open their properties, minus common spaces, and bars and restaurants can open with limited outdoor seating.
On a positive note, 150K patients made a full recovery in Spain since the beginning of this outbreak, in part thanks to the joint effort between the Barcelona Hotels Guild and the Catalan Hotel and Catering Business Confederation who had made hotels available to the Health Department of the Generalitat to deal with this health emergency.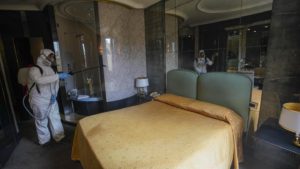 Instead of leaving the rooms empty and unused, a group of hotels opened their doors to Coronavirus patients and health professionals to assist in the fight for our health and safety by converting into "health hotels," in cohesion with the The Barcelona Health Consortium launching the Hotel Salut project.
Municipal centres and city hotels have been converted into temporary medical facilities to help hospitals provide care for Covid-19 patients, while retired and student medics are being called to join the workforce.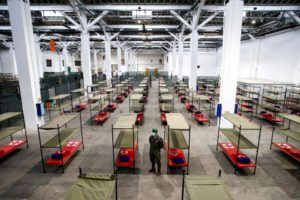 The Fira de Barcelona exhibition center, home of Mobile World Congress, also housed a temporary hospital, in addition to accommodation for homeless and vulnerable individuals. This hospital opened with space for 300 patients, with the potential to expand up to 2,000 beds.
The Barcelona Hotel Guild also helped arrange for twelve hotels to be used for treating non-critical patients who required home isolation and due to family circumstances could not be confined to their own homes, as well as providing shelter for medical staff.
As a whole, the Barcelona hotel sector has voluntarily and altruistically made around 2,500 rooms and more than 1,100 beds available to health authorities during the pandemic.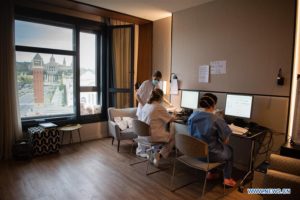 The Barcelona Princess Hotel, located in the Barcelona Forum enabled 300 of its 363 rooms and accommodated 298 mild patients with coronavirus.
Hotel Catalònia Plaza, at Plaza de Espanya, renowned as Hotel Salut and with the capacity to serve up to 500 patients, housed close to 220 health workers from the Hospital Clínic, including doctors, nurses, auxiliary nursing technicians, pharmacists and cleaning and maintenance support personnel.
These two hotels will cease welcoming minor Covid-19 patients after discharging their last patients. The first has been in operation for over 45 days as an extension of Hospital del Mar, while the second, which has functioned as an extension of Hospital Clínic, has been in service for over 52 days.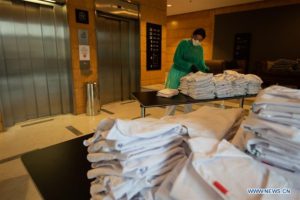 As reported by the Barcelona Hotels Guild, the establishments will undergo an exhaustive disinfection process next Monday June 8th by the Ministry of Health, before reopening to the public.
Cotton House, Praktik Bakery, Melià Barcelona Sarrià, Praktik Vinoteca, Barcelona Princess and Ilunion Barcelona will continue as "health hotels", while Generator Barcelona, ​​Tres Torres Atiram Hotels and Hotel Sagrada Família meet the needs of social services.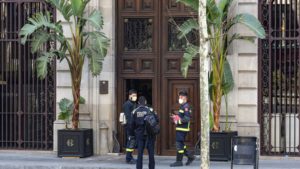 Likewise, the hotels Catalonia Diagonal Centro, Catalonia Rigoletto, Alimara Barcelona Hotel, Room Mate Emma, ​​Pullman Barcelona Skipper and Ilunion Bel Art continue to welcome healthcare personnel who need accommodation.
Visit the local.es for more information regarding the list of emergency hotels in bcn.