Founded in London in 1995 as a home from home for creative's it has now grown into a worldwide community with Hotels (aka Houses) all over the globe. And now Barcelona has it's very own cosy and exclusive Soho House down by the port in a stunning 18th century building. Vintage in style with a touch of 1920's glamour! You will find old radios and clocks in the rooms as well as a speakeasy hidden away.
Besides being a Members Club there is also has public spaces such as the elegant Ceccioni's Restaurant classic Italian food with handmade pasta, seafood and favourites from Northern Italy. This will the 6th of it's kind following London, Miami, Hollywood, Istanbul and Berlin.
PRIVATE EVENT SPACES
LA MERCÉ
Cocktail 175 guests
Sit down meal 55 guests
On the ground floor and reminiscent of a lounge with a bar included this is a perfect space for celebrations or dinners or even a meeting.
36 velvet seating room with foot stools and armchairs perfect to watch a private premiere or company presentation!
GREEN ROOM
Standing 40 guests
Seated 20 guests
Speakeasy inspired room in the lower lobby perfect for a welcome drink cocktail.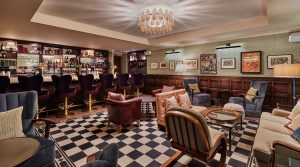 COWSHED RELAX SPA
Groom yourself or have a massage with these trademark products and a glass of cava, oh go on you deserve it!
Let us know if you want to organize your next event here and contact Rebecca@server485250.vservers.es