Foodies and hipsters alike are flocking to Barcelona's latest hot spot with spectacular 360º views at the top of the tallest building in the Ramblas. This restaurant has the edge!
Just opened in September 2016, this brand new restaurant was already taking reservations before it opened its doors. Designed to feel like you're onboard a ship, this unique space has a distinct feel and we already love it!
Located at the bottom of Las Ramblas (Drassanes)
Address: Edificio Colón, Av. de les Drassanes, 6-8, 08001 Barcelona
Marea Alta
Seafood & Fish Restaurant
On the top floor in the sky, this boat inspired space is totally dedicated to the amazing views over the city, port and sea. With some quirky touches such as the red pipes on the ceiling (boat vibes) and the puffer fish plates and bowls with binoculars on the look out tables for guests to fully enjoy the views.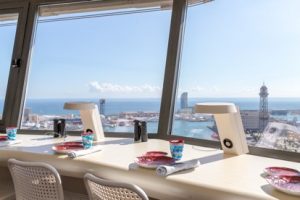 Marea Baja
Cocktail Lounge 'pica pica'
Lay back, order a cocktail and lounge on the sofas inside or on the terraces and take a look out to see through the binoculars. The perfect venue for a cocktail event or party a dynamic space.  
Both venues are perfect for private events in the day or night! 
For more information about booking this venue for your group event contact Rebecca@server485250.vservers.es