This luxury property was opened just a few weeks ago in Barcelona in the vibrant and hip Born district close to the cathedral and museums.
ROOMS
With 100 guest rooms and suites over 10 floors, including 2 generous penthouse suites with views over the cityscape. The rooms have 24-hour room service; twice daily housekeeping and a personalized friendly staff service make you feel at home. Guests can also enjoy a fitness centre and valet parking.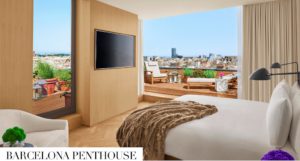 THE ROOF
This year-round roof-top is situated on the 10th floor with panoramic city views, it's the perfect location for some Latin-American fusion tapas and a glass of cava. Open to the public this is a relaxing space to enjoy the views and lounge, or come in the afternoon to listen to the DJ and watch the day turn into the night. There is a plunge pool dedicated for the guests of the Hotel, and is surrounded by sunbeds and lounge seating, it has the air of a young and fresh atmosphere.
Rooftop: 100 standing / 90 seated (seasonal hire)
BAR VERAZ
This lobby bar/restaurant has a touch of the old classic Spanish vermouth bar serving locally produced craft beers, sherry and vermouth alongside the Hotels two dinning concepts, by exclusive chef and founder of the global movement 'cooking in Motion' Sebastian Mazzola formerly of Adria's Tickets, Pakta and Bodega 1900. Focusing on Mediterranean dishes, freshest, seasonal ingredients for both guests and locals.
PUNCH ROOM
Dramatic speakeasy-inspired bar with a sophisticated award winning cocktail menu, expanding on the success of it's London Edition Hotel success this bar serves cocktails in vintage silver bowls, and cocktails can take up to days to prepare. A Castilian-style billiards table with golden cloth adds extra style and excitement to this stunning room. Open to guests and public in the evenings from 19:00, come and try a carefully crafted cocktail.
Punch Room: 70 standing / 45 seated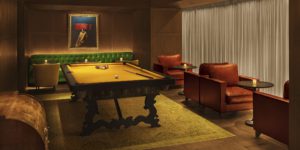 CABARET
Exciting underground club for private events and it's open to the public at the weekend, with a dinner and a show, from the famous curators of Manumission club in Ibiza.
Cabaret: 150 standing / 80 seated
If you would like to host your private event, please contact Rebecca@server485250.vservers.es.