This historic and personalized 5 star Hotel is located in protected building in-between the city's famous Gothic and Born mediaeval quarters.
With 147 spacious rooms & suites, the focus is on style and elegance. It has a sumptuous famous infinity pool at the Skybar, its City Restaurant serves market-fresh Mediterranean cuisine with local produce of the best quality, the stylish City Bar offers all day dining including salads, tapas and a wide signature cocktails selection surrounded by good music in a relaxing atmosphere. The Wellness Suite has carefully designed treatments for their guests. Plus multiple spaces for all types of Events.
The rooftop is open to the guests of the Hotel throughout the day and then after 8pm opens to the public also as a restaurant.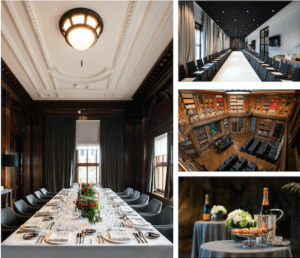 We think this Hotel has some unique spots to host your event:
LIBRARY
The library is like a museum rich with Catalan history and lined wall to wall with books, is a double height space, a singular 41 sq.m. architectural jewel. A space ideally suited to press briefings; product launches or select corporate events.
THE FLORENSA ROOM
The floor to ceiling timber panels and parquet floor help to generate a more intimate space, perfect for corporate events. The Florensa Room (38.5 sq.m.) includes original architectural features like the carved timber fan molding over the windows.
THE SKY BAR
A panoramic rooftop, an infinity pool and the skyline of the city and cathedral as a background make this a special rooftop venue.
THE CENTRAL LOUNGE
Located in the quieter side of the hotel, this 187 sq.m. space can cater to cocktail parties, launches and corporate events. Natural light, panoramic windows, double height ceilings and contemporary interior design.
THE LAYETANA ROOM
Its natural light and classic furniture are the first things that attracts attention. Is the largest of the rooms (82 sq.m.) and stretches across the façade of Via Layetana. Is the perfect space for meetings, social events and cocktail parties.
If you are interested in booking this venue, please do not hesitate to contact me
Rebecca@server485250.vservers.es