Looking for an interesting restaurant or venue to host your company Christmas party? We have listed our top 2017 recommendations in Barcelona:
OPERA SAMFAINA
Multi-sensory gastronomic experience! This is a unique, one of a kind restaurant! Showcasing fresh selected Catalan produce and taking the dinners on an entertaining historical tour through table projections and carefully crafted design and artwork throughout, of Catalan food and history. Don't miss the giant 'cagner' which poops out gourmet chocolate deserts!
Christmas menu 70 Euro/person
Max capacity 200 people
PALAU REQUESENS
Stunning medieval castle in the heart of the Gothic quarter. This 13th century palace is a magical fairytale type venue, which creates wonder and excitement. You can book the fire show and hire actors for the medieval performance!
Menus (catering) from 55 Euro / person
Max capacity 300 people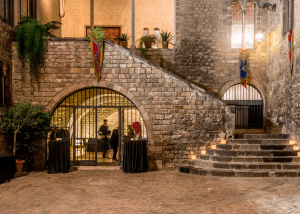 CAFÉ DEL MAR CLUB
Infamous Café del Mar from Ibiza opened this new venue in Barcelona this year, hosting fun music parties, dinners and shows successfully all summer! Take the party inside in either the Restaurant (located on the second floor) or The Club (located on the first floor) both with VIP terrace and balconies over the pool and sea.
Menu from 65 Euro/person
Max capacity Restaurant 170 people
Max capacity in The Club 350 people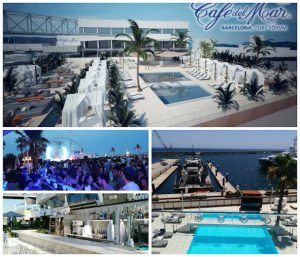 MARITIM
Feel like you're a sailor at sea with stunning views over the Marina at Maremagnum above the Club Nautico. This restaurant is elegantly designed with a large terrace area which can be covered over and heater placed for the winter.
Menus from 40 Euro/person
Max capacity Restaurant only (without terrace) 200 people
Max capacity Restaurant & Terrace 340 people
Max capacity private room Bitácora 70 people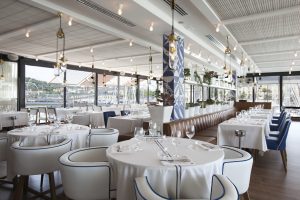 CAFÉ DEL MAR LOUNGE
Located in the Maremagnum shopping centre over looking the Marina this is the sister Café del Mar Lounge to the The Club listed above. Part of the famous Ibizan Club chain this is a Lounge Restaurant Bar with spectacular views over the boats.
Christmas Menus from 60 Euro/person
Max capacity 600 people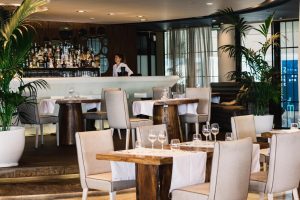 ABRASSAME
Located at the top of Las Arenas Barcelona shopping centre with panoramic views over Placa Espanya and Montjuic and the magic fountain. Mediterranean cuisine in a modern setting restaurant!
Menus from 45 Euro/person
Max capacity 350 people
To book your Christmas Party contact Rebecca@server485250.vservers.es