Hotel Catalonia Plaza Barcelona's 'The Clock Terrace' opening party on 26 May 2016 was a windy but very pleasant affair, the newly refurbished terrace opened its doors and we were included in the invite only gathering. We arrived with cava cocktails in hand looking out at the beautiful views to Montjuic and Plaza Espania, the sun was setting the perfect time for an aperitif and to start the summer terrace opening parties.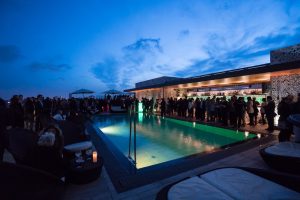 Called the 'The Clock' because of the iconic clock face on the Hotel in Plaza Espania, this space is sure to be on the list of hot-spot rooftops to visit in BCN and a perfect venue to host your event, with a two-level space of over 700m2 a swimming pool, designer furniture, chill-out beds and a wide range of gastronomic delights, Japanese tapas drinks and cocktails.
We enjoyed the beetroot gazpacho and the oreos of cod along with all the other delicious food on offer. The gastronomy was high level and exciting to the eyes and taste-buds, taking traditional tapas to another level. The wine was flowing and the evening too with a contemporary singer entertaining the guests and slinking around the pool.
An ideal place to organize your day or nighttime events with impressive view and comfy surroundings, the guests will be happy! For more information and a quote for this venue, contact Rebecca@server485250.vservers.es.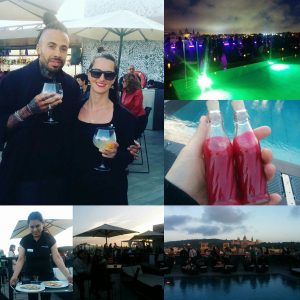 Enjoy the cuisine at The Clock:
Breakfast Skyline: from 09: 00h and 12: 00h you can enjoy a complete breakfast while dreamy panoramic currency. Breakfast consists of an assortment of breads, pastries, assorted cheeses, salmon, ham, tomato bread, fresh orange juice and a glass of champagne. Skyline breakfast must be booked in advance 24h.
Barbecue Filigree: from 12: 30h until 15: 30h the Filigrana restaurant offers a selection of meats, fish and vegetables that are produced in this barbecue on the terrace of the hotel. The coals make the heights to offer hamburgers, lamb chops, sausage Pagès or monkfish and shrimp brochette.
Japanese tapas UMO: Both at noon (13: 00h to 16: 00h) and at night (from 19: 30h to 23: 30h) the UMO restaurant offers a selection of Japanese starters, Asian sandwiches, sushi and mochi in different flavors . A treat for lovers of oriental cuisine can enjoy an assortment of tapas in a privileged setting.
Contact Cubick for more details.
Hotel Catalonia Plaza Floor 8
Placa Espania 6-8 08014
Open Mon-Sun 9:00 to 02:00