On Thursday 14th July we attended the Sunset Summer Party Event held annually at the CCIB in Barcelona. With many people attending, this party was a complete success!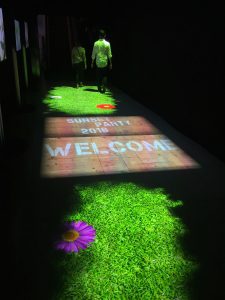 HIGHLIGHTS
Nature sounds and projections of nature, flowers and grass from the entrance into the venue.
Fully stocked and comprehensive bar with craft beers
Buffet with all type of food
Two out door hot kitchens: rice specialties and grills for the BBQ effect
Dessert Tree loaded with all different types of tasty treats
Cute little pots of hummus & guacamole with raw veggies
All the different yummy flavors of ice cream/sorbet including maiz, citrus & veggies and 72% cacao ice cream (our personal highlight!!)
THE VENUE
The CCIB is located at the end of Diagonal Mar in the new and modern area of the city, designed by Catalan architect Josep Lluis Mateo, with the purpose to maximize natural light as much as possible.
Versatile and multifunctional space facing the sea, offering 38 well-lit rooms across 3 floors and 3 mezzanines. The main two spaces are the Exhibition Hall, which can be laid out in a modular way into 8 separate spaces, and the Banquet Hall, which gives amazing views over the sea.
This could be the perfect space to hold your corporate events, exhibitions, meetings, gala dinners and parties!
If you're interested in knowing more about this venue and using it for your event, contact me Rebecca@server485250.vservers.es