Cannes offers great views of the Mediterranean Sea and some of the best sunsets you can find in the French Riviera, here we gather a list of spots to make the most of these views while sipping on a nice drink.
360 Rooftop bar: Located at the top of the Radisson Blu hotel offers breathtaking 360 degrees views of the port, the sea, and the Esterel mountains. This is one of the best spots to watch the sunset with a drink in hand.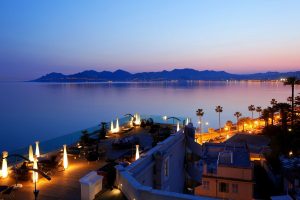 Cannes 3.14 rooftop: Do you want to have a cocktail by the pool and a nice view? Then the rooftop at the 3.14 hotel is a great choice, the hotel in general has a lively and colorful décor and the rooftop is no exception.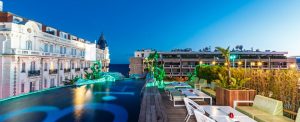 Panorama bar at JW Marriott: The JW Marriott hotel is located just 50 metres from the beach which makes the Panorama bar the perfect spot to enjoy the views of the Croisette. The pool, the restaurant and the lounge furniture make this rooftop one of the best in Cannes.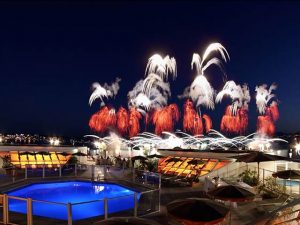 Five seas rooftop bar: This elegant rooftop offers something different to the other rooftop bars since the view is more of the town and not the beach itself. Great for having a drink by the pool and listen to some live music if you pass by on a Wednesday evening.