Barcelona's Rambla Catalunya is an unlikely location just off Placa Catalunya where the majority of restaurants are not typically known for or used by locals, usually charging high prices for not so high quality and standards with mostly tourist trade passing through. Barbas is revolutionising this by bringing Tapas up-to-date with quality fresh ingredients for tourists and locals alike. This is a quality restaurant establishment proud to be serving local food with a modern twist and a touch of class.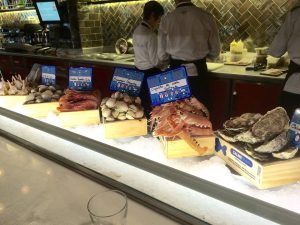 This casual and sophisticated venue is dominated by the large bar area, which is where the chefs are cooking and preparing tasty homemade classic favorites such as Sardines, Bacalao, Oysters and Ham Croquetas. The bar looks like something from Boqueria market place with fresh fish on ice and different delights to excite the taste buds.
This venue is the perfect place for a cocktail event with a casual yet stylish decoration and atmosphere. This place has soon become a popular pit-stop for many.
To reserve this venue for your event in Barcelona, contact us for more details
Rebecca@server485250.vservers.es