As a leading corporate events company, CUBICK has had the privilege of organising memorable experiences in some of the most extraordinary venues.
Here we want to highlight the grandeur and elegance of Spanish castle venues that provide an enchanting backdrop for corporate events and parties.
From historic castles to picturesque palaces, we will introduce you to five remarkable locations: Castell Peralada, La Casa de la Seda, Palau Requsens, Parador Tortosa, Cordoniu, and Castell de Sant Marsal.
If you would like more information on how CUBICK can help you plan memorable events in Barcelona, get in touch now:
Check out our list of the best castle venues in and around Barcelona below…
Castell Peralada
Located in the picturesque village of Peralada in Catalonia, Spain, Castell Peralada is a unique castle venue that exudes sophistication and charm.
With its stunning architecture, lush gardens, and panoramic views of the Empordà region, this castle venue offers a captivating setting for corporate events. Whether it's a product launch, gala dinner, or team-building activity, Castell Peralada promises to leave a lasting impression on guests.
La Casa de la Seda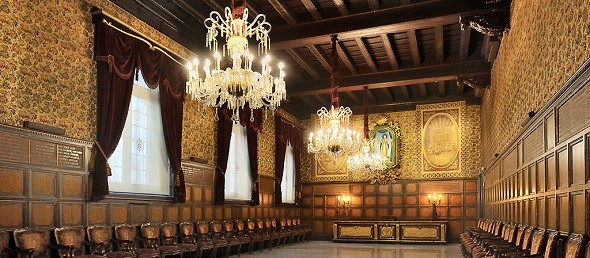 Nestled in the heart of Barcelona, La Casa de la Seda (The Silk House) is a hidden gem that transports visitors back to the city's glorious past.
This meticulously preserved 18th-century mansion features impressed sgraffiti on the facades with caryatids of more than four meters high. Ideal for corporate meetings and smaller gatherings, La Casa de la Seda offers an intimate and refined atmosphere that inspires creativity and fosters meaningful connections.
Palau Requesens

Located in the heart of the city, this historic 13th century palace transports guests back in time with its medieval charm and grandeur.
The stunning architecture and well-preserved interiors create a captivating atmosphere, while the courtyard is a hidden gem within the gothic area of the city. The venue's medieval architecture offers versatility for various corporate gatherings, from formal conferences to lavish gala dinners.
Parador Tortosa de La Zuda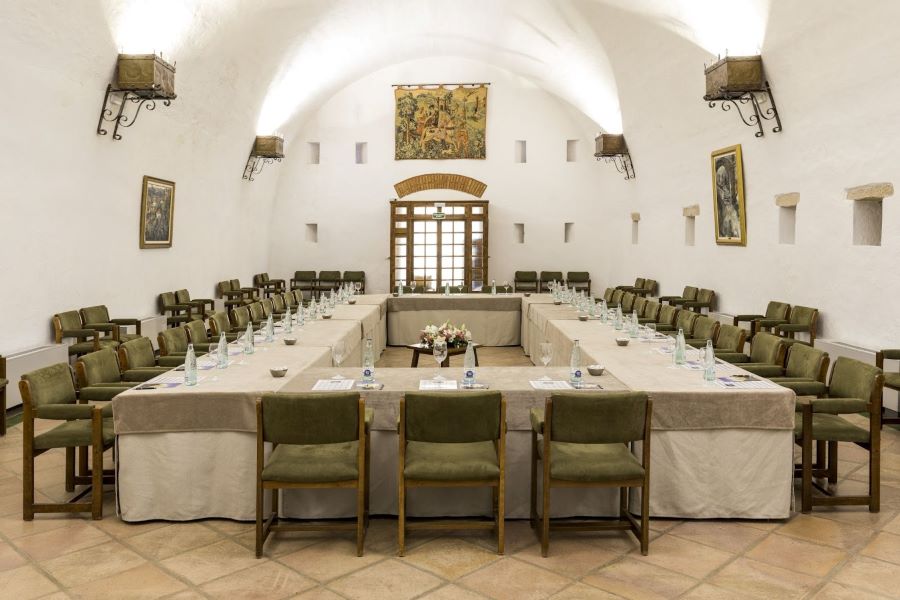 Just a stone's throw from the Ebro River and nestled in the picturesque town of Tortosa, Parador Tortosa de la Zuda is a magnificent castle turned luxury hotel.
Its rich history, impressive architecture, and scenic surroundings make it a remarkable setting for corporate events. From its elegant meeting rooms to its spacious gardens, this venue offers a seamless blend of tradition and modernity, ensuring an unforgettable experience for all attendees.
Codorníu
Renowned as the oldest winery in Spain, since 1551 Codorníu seamlessly combines its rich heritage with stunning vineyards and facilities of modernist architecture, considered the Cathedral of Cava.
Whether it is a corporate event or a celebration, hosting it at Codorníu provides an opportunity to indulge in the art of cava making while enjoying the picturesque scenery of the Penedès region.
With versatile event spaces, culinary excellence and tailored experiences, Codorníu adds a touch of sophistication and a sparkle of excellence to any corporate gathering, making it an irresistible choice for those seeking a truly memorable experience.
Castell de Sant Marsal
Perched atop a hill overlooking the breathtaking landscapes of the Garraf Natural Park near Barcelona, Castell de Sant Marsal is a medieval castle that embodies history and elegance.
With its medieval architecture, lush gardens, and panoramic views of the surrounding vineyards, this venue provides an extraordinary backdrop for corporate events and celebrations. From conferences to cocktail parties, Castell de Sant Marsal promises a unique and unforgettable experience for attendees.
When it comes to hosting corporate events and parties in exceptional venues, the allure of castles is unparalleled. From the enchanting Castel Restaurant Peralada to the historical grandeur of La Casa de la Seda, and the medieval marvel of Palau Requsens and Palau Mirador, not to mention the charm of Parador Tortosa, and Castell de Sant Marsal these castle venues provide a perfect blend of history, elegance, and modern amenities.
At CUBICK, we take pride in curating unforgettable experiences in these remarkable locations, ensuring that every corporate event is truly extraordinary.
We offer a wide range of services to help you with your next corporate event, including:
★ Accommodation (Hotels, Apartments, Villas, Yachts)
★ Expert Event Planning & Production
★ Comprehensive Venue & Location Search
★ Innovative & Personalized Event Concepts
★ Thorough Site Inspections
★ Skilled Negotiation of Rates and Contracts
★ On-site Event Management & Coordination
★ Conferences & Meeting rooms
★ Exquisite Cocktail, Dinner & Catering Services
★ Engaging Team Building Activities & Incentives
★ Sustainable & Eco Friendly Events
★ Transport & Chauffeur Services
★ Personalized Print, Branding, & Swag
★ Hassle-free Successful Event