Barcelona's famous and historic El Molino is an exciting night out with singing, dancing and burlesque fun! This emblematic theatre originated in 1898 on Parallel, an area famed for its theatres. This landmark modern theatre was re-built from the ground up just 5 years ago and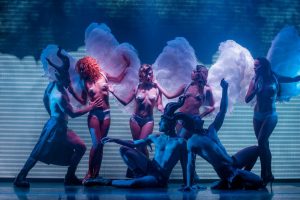 looks fantastic! The Golden bar on the top with the terrace overlooking the arms of the glowing red turning windmill, is the perfect place to take a cocktail after the show!
The 3 floored multifunctional space is also a perfect venue to hold private events, dinners, parties etc.
Expect laughter, entertainment and singing dancing boys and girls in a tongue in cheek burlesque performance! The crowd is mixed with Catalans, spanish and foreign tourists and the vibe is fun and interactive.
The performances change seasonally and at the moment on Thursday they have a rumba experience and the weekend the new cabaret.
The "grandmother" of El Molino Merche Mar has been there since she was 13 years old! Quite a celebrity in Barcelona, Merche' is the life and soul of Molino, greeting the guests, making jokes and keeping everyone entertained whilst hosting the various performances. Her spicy stories of the glamorous past when she was a showgirl working in El Molino gives the place real history and her fans some juicy gossip!
In the words of Merche Mar "Leave the problems at the door, at El Molino we are here to enjoy!"