As a leading corporate events company in Barcelona since 2008, CUBICK has had the joy of experiencing these wonderful Tapas places in Barcelona and sharing them with our international corporate clients.
Welcome, fellow foodies and adventurers, to the vibrant culinary paradise that is Barcelona! Among the city's many gastronomic wonders, tapas holds a dear place in everyone's heart. Let me take you on a flavourful journey to discover the best 5 tapas restaurants in Barcelona. So, grab your appetites and let's dive in!
If you would like more information on how CUBICK can help you plan memorable events in Barcelona, get in touch now:
Check out our top 5 hidden gem Tapas Restaurants in Barcelona
QUIMET I QUIMET – A True Tapas Treasure Trove
Hidden away in the heart of Barcelona, Quimet i Quimet is a quaint and charismatic gem that has been delighting locals for generations. I used to live just next door to this family-run joint, it has perfected the art of combining traditional flavors with innovative flair. As you step inside, you'll be greeted by rows of wine bottles adorning the walls, creating an ambiance that feels like a cozy wine cellar. Their tantalizing montaditos (small open sandwiches) are a must-try, with a mind-blowing variety of toppings that dance harmoniously on your palate. From smoked salmon and goat cheese to truffled honey and cured meats, each bite is a symphony of tastes.
TENS – Upscale Modern Tapas
Prepare your taste buds for this upscale Tapas restaurant combining the modern with traditional flavours and memorable tapas dishes. Try the 10s tasting tapas menu and enjoy tacos, steak tarter, fish & chips, and beach shrimp among many other taste sensations. Eat like a true Barcelonia and sip a glass of bubbling cava.
EL XAMPANYET – Bubbly Bliss
In the vibrant El Born neighbourhood next to the Picasso Museum, El Xampanyet is a tapas haven that boasts an authentic atmosphere and a rich history. Prepare for a taste bud tango as you sample their delectable array of traditional Spanish tapas. Don't miss the melt-in-your-mouth Iberian ham, the fresh seafood delights, and their namesake beverage, the sparkling xampanyet. The laughter and chatter of the locals mixed with the clinking of glasses create an ambiance that transports you back in time
BAR DEL PLA – A Modern Twist on Classic Tapas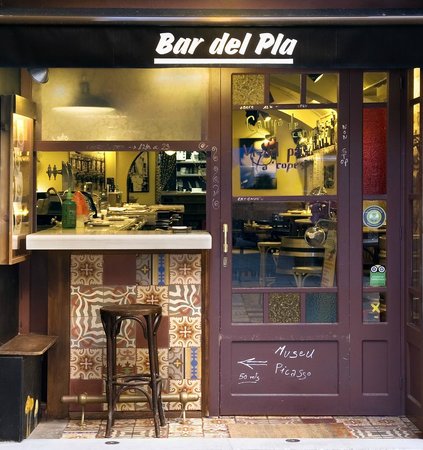 Bar del Pla is a popular no frills tapas restaurant that combines a lively atmosphere with impeccable service. Tasty wines, seasonal tapas dishes and montaditos (open sandwiches), accompany the hustle and bustle of this typical yet special tapas restaurant. Drink like a local and finish your tapas meal with a gin & tonic and sit late into the night with friends.
EL NACIONAL – A Grand Tapas Adventure
Last but certainly not least, we step into El Nacional, a culinary emporium unlike any other. This grand venue houses several restaurants and bars, each with its own unique flair. When it comes to tapas, La Taperia is where the magic happens. The vibrant energy, the chic décor, and the astonishing variety of tapas will leave you spellbound. From traditional patatas bravas to modern twists on classic dishes, there's something for everyone. Whether you choose to savor the rich flavors of Spanish omelet or indulge in the tender grilled octopus, El Nacional's tapas experience is one you won't soon forget.
And there you have it, fellow foodies – the top 5 tapas restaurants in Barcelona that will take your taste buds on a wild adventure! Remember, tapas aren't just a meal; they are an art form, a celebration of Spanish culture and camaraderie. So, the next time you find yourself strolling through the enchanting streets of Barcelona, make sure to visit these hidden gems and embark on a culinary journey like no other.
¡Buen provecho!
When planning a corporate event in Barcelona contact Rebecca @ Cubick with your request details to save money, time, and make your event hassle free.
At CUBICK, we take pride in curating unforgettable experiences in these remarkable locations, ensuring that every corporate event is truly extraordinary.
We offer a wide range of services to help you with your next corporate event, including:
★ Accommodation (Hotels, Apartments, Villas, Yachts)
★ Expert Event Planning & Production
★ Comprehensive Venue & Location Search
★ Innovative & Personalized Event Concepts
★ Thorough Site Inspections
★ Skilled Negotiation of Rates and Contracts
★ On-site Event Management & Coordination
★ Conferences & Meeting rooms
★ Exquisite Cocktail, Dinner & Catering Services
★ Engaging Team Building Activities & Incentives
★ Sustainable & Eco Friendly Events
★ Transport & Chauffeur Services
★ Personalized Print, Branding, & Swag
★ Hassle-free Successful Event