72 ROOMS
Calle Mallorca 178 08036
Barcelona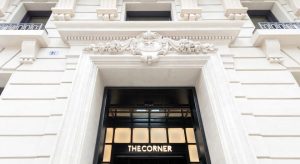 Description:
Opened 1 month ago in October 2016, this new Hotel in Eixample district is part of Núñez I Navarro Hotels chain with many hotels in Barcelona such as Hotel 1898 & B-Hotel to name only a couple.
The Hotel lobby is also a trendy café bar perfect for after-work networking & drinks. the Hotel design conscious style offers high quality fixtures and fittings from leather chairs to parquet floors and wooden tables.
We feel this Hotel is more of a 4 star Hotel even though it currently has 3 stars. We think it will raise up to 4 as the clients expectations continue to be exceeded.
Rooms:
All rooms are super modern with a smart TV and Bluetooth sound system, so as soon as you arrive you can connect your device and start listening to your favorite album, you can also connect with the TV to find out where local gyms, sweets shops etc. are.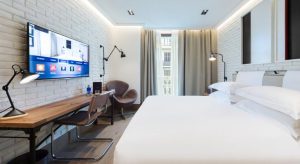 3 Room Types
Classic
16m2
Rooms facing the interior patio of the Hotel
Superior
20m2
Rooms facing the exterior street
The Corner
22m2
Larger rooms situated on the corner of the building
For more information or group bookings contact